Club Mykonos Langebaan
[ ]
On-Site
Shuttle service (All bookings can be made through our Reception. Contact: 022 707 7000)
Conference facilities (Our conference facility can accommodate up to 500 delegates and offer tailor made packages. Contact: 022 707 7209)
Laundry (Contact: 022 707 7136)
Gym (Contact: 022 707 7000)
Beach
Restaurant (Black Pearl restaurant - Contact: 022 707 6975. BOESMANLAND PLAASKOMBUIS - Contact: 022 772 1564. BOUZOUKI - Contact: 022 707 7796. LITTLE VENICE - Contact: 022 707 7796.)
Bar (Beach Bar - Relax and enjoy a drink on the water's edge. Contact: 081 410 7989)
Swimming pool (Indoor Pool and 6 outdoor pools. Enquire at Health and Leisure. Contact: 022 707 7000)
Public parking
Games room (A variety of games to keep the children occupied. Contact: 022 707 7883)
Water sports (ATLANTIC YACHTING-Contact: 022 772 0718)
Quadbikes (4 Wheel Bikes for hire - on the Track. Contact: 082 223 0344)
Spa (Book your treatment early. Contact: 022 707 7174)
Sauna (Contact: 022 707 7174)
Tennis (Bookings essential. Contact Health and Leisure. Contact: 022 707 7000)
Squash (3 Glass Backed Courts. Bookings essential. Enquire at Health and Leisure. Contact: 022 707 7000)
Wi Fi
Jacuzzi (Contact: 022 707 7174)
Gift and Curio Shop (Agora Sport and Beach Shop - For all your holiday clothing and gift requirements. Contact: 022 707 7790)
Archery (Get your target shooting practice in at Active Adventures. Contact: 082 223 0344)
Chess (Located in the Agora Square alongside the Chapel as well as Hobie Beach. Contact: 022 707 7898)
Coffee shop (Dockside Cafè and Lounge - A restaurant, bar and internet cafè with unique flare. Contact: 022 707 7896)
Car wash (Contact: 082 821 5458)
Casino (Contact: 022 707 7790)
Clubhouse (A safe haven for the little VIP's. Contact: 022 707 7898)
Cafe (Contact: 022 707 7896. LEISURE CAFè - Contact: 022 707 7174)
Mini golf (Contact: 022 707 7789)
Paintball (Contact: 082 223 0344)
Off-Site
Restaurant (Bouzouki : 022 707 7796. Lekke by die see: 082 5602389. Little Venice: 022 707 7796. Morisol Diner: 022 707 6975.)
Museums
Game drives
Spa (La Vita Spa - Contact: 022 707 7174)
Supermarket (Marina Supermarket - Contact: 022 707 7789)
Shopping centre (Laguna Mall - walking distance.)
Medical facilities (Langebaan Medical Centre 4.88 KM)
Yacht club (Atlantic Yachting - Contact: 022 772 0718)
Beach bar (Contact: 081 410 7989)
Casino (Contact: 022 707 7790)
Coffee shop (Leisure Cafè - Contact: 022 707 7174)
Bar (Oceanis Pool Bar - Super Paradise Beach. Contact: 022 707 7795)
Quadbikes (Contact: 082 223 0344)
Water sports (Elite Charters - Contact: 072 702 9919)
Alerts

1. General: Masks are compulsory throughout the resort and social distancing must be followed at all times. Floor decals will be used to indicate the spacing at queuing points. Maximum capacity protocols will be strictly enforced in any given area, as per Government regulations. The President announced that every person is confined to his or her place of residence from 21:00 until 04:00 daily. Kindly remain in your unit between these hours. Due to the curfew, operating times throughout the resort have changed. For more information, please contact Extension 5. As per the adjusted level 4 regulations, the beach will not be accessible at all. The rest of the facilities will remain open with strict limitations on the number of guests at each facility. 2. Check-in: All guests must be screened before entering the resort. Guests will only be able to check in or join before 21:00 due to the curfew, unless prior special arrangements have been made. 3. Housekeeping Service: If you prefer not to have inhouse service, kindly hang the 'do not disturb' sign on the outside of your unit door. • To limit contact, we would prefer that guests are not present in the unit when service is given. This is for your own protection as well as for the protection of our staff. • Additional items such as toilet paper, bedding etc., must be requested before 19:30 due to the curfew and staff transportation. 4. Club Onos and Club Kudos: We have to limit the number of kids/teens in each building. No activities will be held due to the new regulations. We have an awesome new digital Entertainment Program for the entire family to enjoy and we have included fabulous prizes to be won. Both buildings are sanitized regularly. 5. All restaurants are closed for sit-down customers and alcohol sales, however the following restaurants are open for take-aways only: • Cape Town Fish Market, 11:00 – 18:00 daily • Dockside Café and Lounge, 08:00 – 19:00 daily • Thoban Chefs, 11:00 – 19:00 daily • Marc's Beach Bar, 12:00 – 19:30 daily We have introduced a new service, OPA EATS, where the Front Office will be able to accept take-away orders from these restaurants and will then arrange for free delivery to the guest's unit. Facilities: The following facilities are open: • Health and Leisure (excluding the gym and Club Kudos) • La Vita Spa • Agora Supermarket • Unique Creations • Laundry on the Square • Agora Sports Shop • Club Mykonos Marina • The Boatyard at Club Mykonos • Vacation Zone 6. Swimming Pools: We have to limit the number of guests at each pool area. Guests have to bring their own beach/swimming towels to use at the pools. No beach/swimming towels will be provided during your stay. The outdoor pools are available to use until 20:50. The indoor pool is open until 19:00 due to staff transportation. 7. Health and Leisure: The Health and Leisure Centre will close at 19:00 due to staff transportation requirements. • A limitation of guests is required in and outside of the Centre. Strict social distancing rules have to be followed and masks are compulsory to enter. 8. Casino: The entrance door to the Casino through the Health and Leisure Centre will remain closed due to the new protocols. Only the main entrance of the Casino may be used. It is compulsory to have your ID or Driver's License with you when you enter the casino. 9. Notice: We ask all guests to please be patient with us, we have had to make several changes due to the new regulations and have limited staff available each day.
GPS

[ S 33 2' 51", E 18 2' 42" ]
[ -33.04765900, 18.04518700 ]

Region

Western Cape

City

Langebaan
Check In Day

Friday

Check In

16:00

Check Out

10:00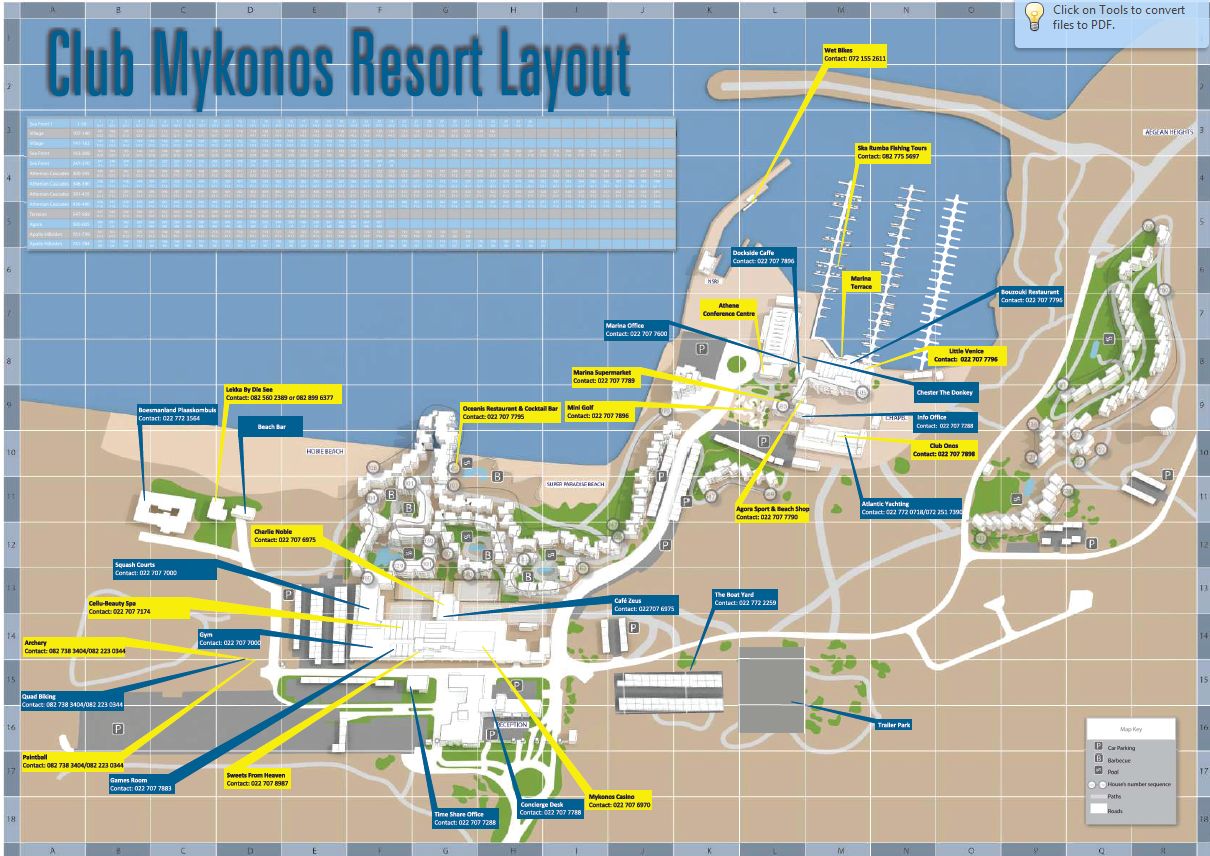 ---
No availability for current resort
---
Popular with people who booked here
---

Crystal Springs (Mpumalanga - Pilgrims Rest)
Crystal Springs Mountain Lodge is a four star self-catering resort situated near Pilgrim's Rest. Natural scene...

Ngwenya Lodge (Mpumalanga - Komatipoort)
The Lodge offers the perfect getaway for those seeking a truly African experience.

Mount Amanzi (North West - Brits District)
Deep in the heart of the Magaliesberg Mountains, nestled along the banks of the Crocodile River, lays one of t...

Uvongo River Resort (South Coast - South Coast, Kwazulu-Natal)
Set in a quiet suburb, this exclusive resort boasts distinctive Italian-inspired apartment blocks in tranquil ...

Mabalingwe Nature Reserve (Limpopo - Thabazimbi Road)
Mabalingwe Nature Reserve is situated in the shadow of the majestic Waterberg district with spectacular scener...