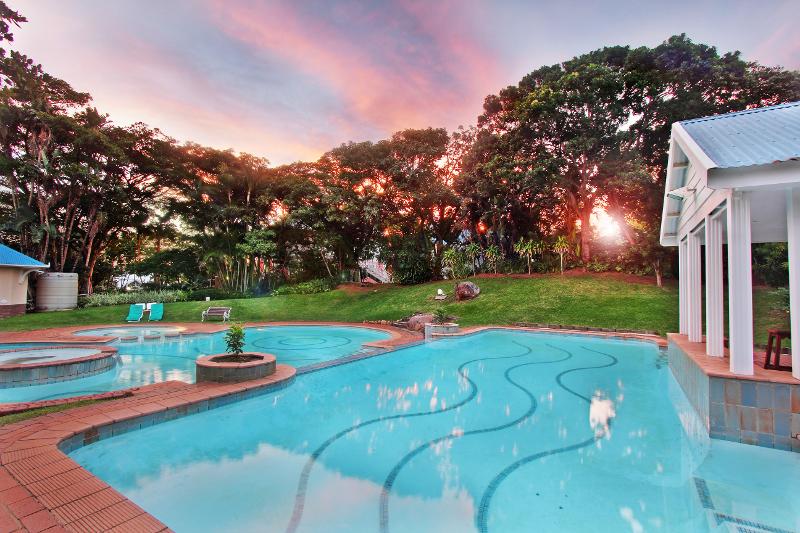 On-Site
Beach
Bird Watching
Cellular Reception
Fishing
Security
Swimming Pools (Children and Adults)
Tennis
Launching Facilities (Boats and canoes)
Kiddie's play area (Playground)
Trampoline
Credit Card facilities
Hiking trails
Off-Site
Airport (Margate Airport - 30km and King Shaka International Airport -210 Km)
ATM (5km)
Casino (Wild Coast Sun - 3km)
Game farm (3km)
Golf course (13.0 km Port Edward Country Club)
Gym (5km)
Horse riding (3km)
Medical facilities (5km)
Restaurant (6km)
Squash (2km)
Supermarket (5km)
Water World (15.3km- Wild Coast Water World)
Hippo / Crocodile Tours (25km)
Fishing (Deep sea fishing - 5km)
Shopping centre (3km)
Whale and Dolphin Viewing (2km)
Beaver Creek Coffee Farm (5km)
Sardine Run (25 June – 25 July)
Petrol station (3km)
Spa (13.0km - Health and Beauty Clinic Day Spa)
Arts and crafts (7km)
Far Horizon Animal Farm (8km)
Red Desert (8km)
Riverbend Crocodile Farm (18km)
Town - Margate (30km)
Town - Port Edward (2km)
Mac Bananas Cafe (8km)
Alerts

Self catering.. NOT a malaria area. A refundable Key and Breakage fee of R500 is charged per unit on arrival and can only be paid by Cash or Credit card. No Cheques or Debit Cards are allowed. Average summer temperature : Low: 18 High: 25. Average winter temperature : Low: 12 High: 21. Summer rainfall region.. The direct accessible beach and walking trails to the river and beach are mostly not suitable for the elderly or persons with any disabilities as the pathways are steep and have steps. Due to the severe drought experienced in Kwa-Zulu Natal water restrictions have been introduced on the North Coast. To save water we would like to notify you of measures which are being taken by the Ethekweni Municipality. Currently there is 'watershedding' implemented by the municipality between 09:00 – 17:00 each day, in some areas. For more information, please feel free to contact the resort directly.
GPS

[ S 31 4' 28", E 30 12' 1" ]
[ -31.07446600, 30.20028900 ]

Region

South Coast

City

Port Edward
Check In Day

Friday

Check In

14:00

Check Out

10:00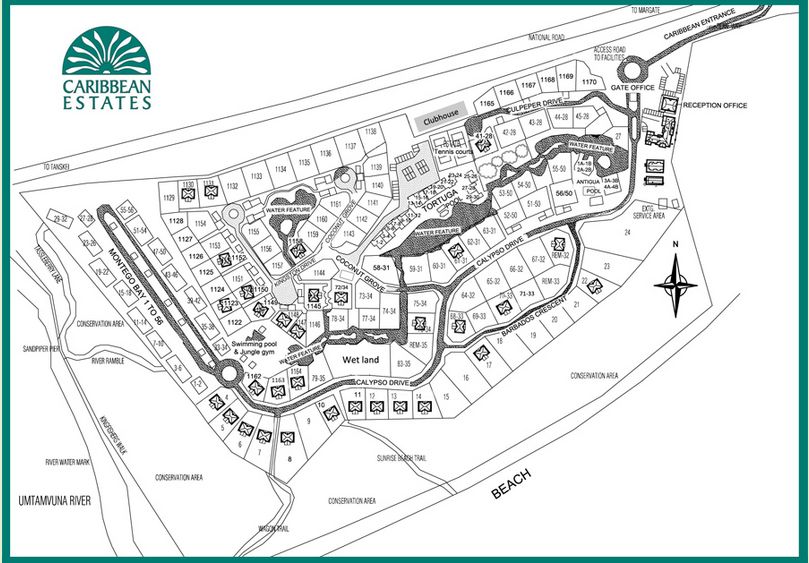 ---
No availability for current resort
---
Popular with people who booked here
---

Crystal Springs (Mpumulanga - Pilgrims Rest)
Crystal Springs Mountain Lodge is a four star self-catering resort situated near Pilgrim's Rest. Natural scene...

Ngwenya Lodge (Mpumulanga - Komatipoort)
Situated on the banks of the Crocodile River, Ngwenya Lodge offers an insider's look into the Southern boundar...

Uvongo River Resort (South Coast - South Coast, Kwazulu-Natal)
Located within a residential area on the Uvongo River, these distinctive Indonesian-style apartments are set i...

Mount Amanzi (North West - Brits District)
Deep in the heart of the Magaliesberg Mountains, nestled along the banks of the Crocodile River, lays one of t...

Mabalingwe Nature Reserve (Limpopo - Thabazimbi Road)
Mabalingwe Nature Reserve is situated in the shadow of the majestic Waterberg district with spectacular scener...