Club Mykonos Langebaan
[ ]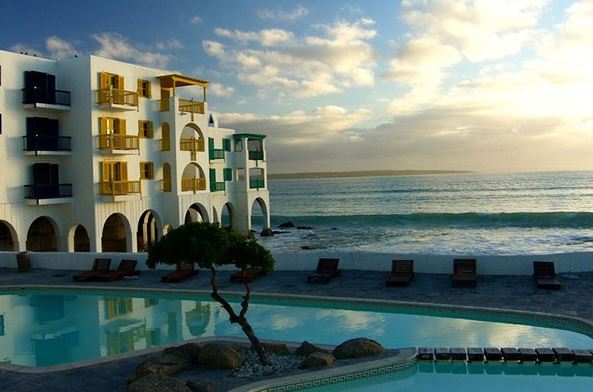 On-Site
Shuttle Service (All bookings can be made through our Reception. Contact: 022 707 7000)
Conference facilities (Our conference facility can accommodate up to 500 delegates and offer tailor made packages. Contact: 022 707 7209)
Laundry (Contact: 022 707 7136)
Gym (Contact: 022 707 7000)
Beach
Restaurant (Black Pearl restaurant - Contact: 022 707 6975. BOESMANLAND PLAASKOMBUIS - Contact: 022 772 1564. BOUZOUKI - Contact: 022 707 7796. LITTLE VENICE - Contact: 022 707 7796.)
Bar (Beach Bar - Relax and enjoy a drink on the water's edge. Contact: 081 410 7989)
Swimming pool (Indoor Pool and 6 outdoor pools. Enquire at Health and Leisure. Contact: 022 707 7000)
Public parking
Games room (A variety of games to keep the children occupied. Contact: 022 707 7883)
Water sports (ATLANTIC YACHTING-Contact: 022 772 0718)
Quadbikes (4 Wheel Bikes for hire - on the Track. Contact: 082 223 0344)
Spa (Book your treatment early. Contact: 022 707 7174)
Sauna (Contact: 022 707 7174)
Tennis (Bookings essential. Contact Health and Leisure. Contact: 022 707 7000)
Squash (3 Glass Backed Courts. Bookings essential. Enquire at Health and Leisure. Contact: 022 707 7000)
Wi Fi
Jacuzzi (Contact: 022 707 7174)
Gift and Curio Shop (Agora Sport and Beach Shop - For all your holiday clothing and gift requirements. Contact: 022 707 7790)
Archery (Get your target shooting practice in at Active Adventures. Contact: 082 223 0344)
Chess (Located in the Agora Square alongside the Chapel as well as Hobie Beach. Contact: 022 707 7898)
Coffee shop (Dockside Cafè and Lounge - A restaurant, bar and internet cafè with unique flare. Contact: 022 707 7896)
Car wash (Contact: 082 821 5458)
Casino (Contact: 022 707 7790)
Clubhouse (A safe haven for the little VIP's. Contact: 022 707 7898)
Cafe (Contact: 022 707 7896. LEISURE CAFè - Contact: 022 707 7174)
Mini golf (Contact: 022 707 7789)
Paintball (Contact: 082 223 0344)
Off-Site
Restaurant (Bouzouki : 022 707 7796. Lekke by die see: 082 5602389. Little Venice: 022 707 7796. Morisol Diner: 022 707 6975.)
Museums
Game Drives
Spa (La Vita Spa - Contact: 022 707 7174)
Supermarket (Marina Supermarket - Contact: 022 707 7789)
Shopping centre (Laguna Mall - walking distance.)
Medical facilities (Langebaan Medical Centre 4.88 KM)
Yacht club (Atlantic Yachting - Contact: 022 772 0718)
Beach bar (Contact: 081 410 7989)
Casino (Contact: 022 707 7790)
Coffee shop (Leisure Cafè - Contact: 022 707 7174)
Bar (Oceanis Pool Bar - Super Paradise Beach. Contact: 022 707 7795)
Quadbikes (Contact: 082 223 0344)
Water sports (Elite Charters - Contact: 072 702 9919)
Alerts

IMPORTANT COVID 19 NOTICE: The Resort will have to operate per the Covid 19 Protocols set by government, there will be limited services and/or facilities. For more information kindly contact the resort directly to confirm. On the 15th March 2020 the Presidency announced a National State of Disaster and various measures to contain the spread of this virus into South Africa. One of the main measures introduced limiting travel to and from high-risk countries and closures of some of the ports of entry and border posts. There was also a prohibition introduced on any public gatherings of 100 people or more, which lead to the postponement of all of our upcoming shows and events. We will be negotiating with these artists and re-scheduling these events as soon as we know the extent of the ban on this type of gathering. Whilst we may not be in a position to host these shows and events, Club Mykonos is still open for business.
GPS

[ S 33 2' 51", E 18 2' 42" ]
[ -33.04765900, 18.04518700 ]

Region

Western Cape

City

Langebaan
Check In Day

Friday

Check In

16:00

Check Out

10:00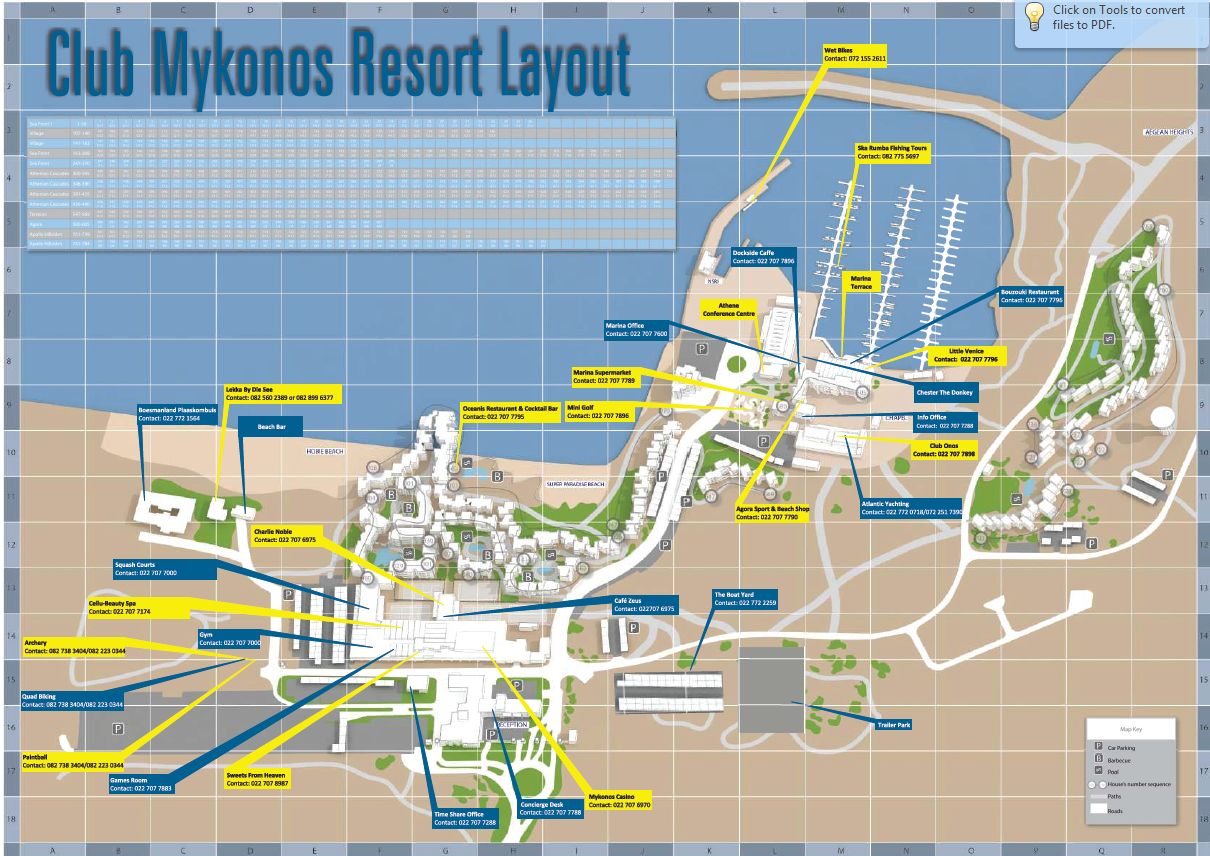 ---
No availability for current resort
---
Popular with people who booked here
---

Crystal Springs (Mpumalanga - Pilgrims Rest)
Crystal Springs Mountain Lodge is a four star self-catering resort situated near Pilgrim's Rest. Natural scene...

Ngwenya Lodge (Mpumalanga - Komatipoort)
The Lodge offers the perfect getaway for those seeking a truly African experience.

Mount Amanzi (North West - Brits District)
Deep in the heart of the Magaliesberg Mountains, nestled along the banks of the Crocodile River, lays one of t...

Uvongo River Resort (South Coast - South Coast, Kwazulu-Natal)
Set in a quiet suburb, this exclusive resort boasts distinctive Italian-inspired apartment blocks in tranquil ...

Mabalingwe Nature Reserve (Limpopo - Thabazimbi Road)
Mabalingwe Nature Reserve is situated in the shadow of the majestic Waterberg district with spectacular scener...